A monthly review of our team & the Greenville Real Estate Market
Holidays Approaching...
The cool weather we saw come in during October has turned into wet cold showers. I love the feeling like I NEED to curl up in front of a fire with a book and a hot drink OR catch a show at one of the many theatres here in Greenville. Both of these gave me the idea to help you find either a show or a hot drink. There are so many cool options for both now in Greenville. Enjoy the cool weather!
Places to Catch a Show in downtown Greenville, SC:
(see map below for locations)
Peace Center Hall

- The larger theatre in the Peace Center complex. 300 S. Main St. 864.467.3000

Gunter Theatre

- the smaller theatre for films, recitals and children's theatre. 300 S. Main St. 864.467.3000

The Gunter Theatre hosted the Reedy River Film Festival Nov. 2nd & 3rd, and our son, Galen Cunningham, showed his film, The Body, as one of three student films from the Fine Arts Center to be shown at the festival. We were very proud.

Center Stage

- 275 seats, an intimate space. 501 River Street. 864-233-6733

Warehouse Theatre

- a smaller intimate experience with an emphasis on thought provoking theatre experience. The stage is an indoor amphitheatre. 501 River Street. 864-235-6948

Greenville Theatre

- Also known as the Greenville Little Theatre. The oldest and biggest professional/local stage. 571 seats. 444 College Street. 864-233-6238

Cafe and Then Some

- Comedy Dinner Theatre. 101 College Street. 864-232-CATS.

South Carolina Children's Theatre

- Performance, education and outreach for children in and through the theatre. Location is changing as they are building a new awesome building on Augusta Street. They are showing at the Gunter Theatre currently. 864-467-3000 or 1-800-888-7768.

Furman University Theatre Arts Department

- Furman University Theatre. 864-294-2125.

Summer Shakespeare

- A summer troup that performs in intimate settings, mostly on the Bob Jones University Campus in the Performance Hall. 864-525-6940.

Logos Theatre

- 300 seats. Uplifting messages. Education plus shows. 80 School Street, Taylors. 864-268-9342.

North Greenville University Theatre

- 7801 N. Tigersville Road, Tigersville, SC 29688. 864-977-7085.

Chautauqua

- An interactive performance on history. Passing on oral tradition. Various locations. 11 Rock Side Court, Greenville, SC. 864-244-1499.

Greer Children's Theatre

- Through the Greer Arts Council. 301 East Poinsett Street, Greer. 864-848-5383.

Maulding Youth Theatre

- An up and coming theatre with a new building in the works. 101 E Butler Rd, Mauldin, SC. 864- 355-4862.
Where's The Coffee?
I was going to list all the cool coffee shops in Greenville I could find, but instead I found this really nice map all set up with little coffee icons!
Click on the map and select to see a larger image and it will show you a listing of all the coffee shops in the area. It lists the name, rating, address, a large map and more. If you move the map it will show you more shops in the area you select.
Greenville has become a truly urban area with lots of neat places to meet and visit with others and drink a fine brew. Enjoy!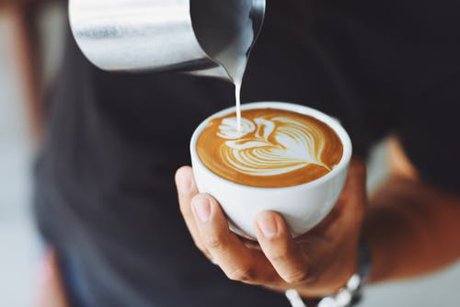 A rendering of the walkable downtown area Mauldin in planning. The city is envisioning it bordering Jenkins Street to the north, South Main Street to the west, Murray Drive to the east and West Butler Road to the south. (Photo and info City of Mauldin)
Mauldin, SC Development of a City Center
Recently at a Mauldin City Council meeting they tentatively selected a firm for the Mauldin downtown development project, City Center! Contour Development is expected to become the City's developer for the City Center project, pending a second reading of an ordinance authorizing the agreement and the sale of City-owned property to the firm. The project is expected to break ground in 2020. "This is an important first step in achieving the City's goal of creating a downtown that is anticipated to deliver a mix of development that serves the commercial, office, hospitality, cultural and residential needs of our growing community," said Mayor Dennis Raines. "The City Center concept has been a vision for the City's leadership that we have been diligently working to bring to fruition."
This development will not only give Mauldin a defining "center", but will continue the much anticipated "Swamp Rabbit Trail" to parts south which include Simpsonville and Fountain Inn. This is great news especially as those towns have already invested in their leg of the Swamp Rabbit Trail. As each town in Greenville County steps up and improves their cities and towns it continues to make Greenville, SC
Where exactly does Mauldin, SC cover. See the boundaries on the above map!
HIGH SPEED RAIL LINE
Three high speed rail options between Atlanta + Charlotte (which could potentially cut travel time between the two cities in half) have been proposed. Each of the three proposed lines would run through Greenville, S.C., and the GDOT says environmental impact + public input are the main keys in mind when deciding which option to move forward with. There was an open house on Oct. 23 at County Square (301 University Ridge, Set. 400) which was attended by over 100 people. See the original posting on facebook and all the comments! Facebook post Gvl Today High Speed Train
Cunningham Team Real Estate LISTING
22 Deer Track Road, Simpsonville, SC 29680
List Price $499,000 | 4 BR 3.5 BA | MLS# 1405910
OCTOBER Real Estate Market
Mortgage rates are approximately 1% lower then this time last year. Fannie Mae is predicting continued low rates on into 2020 and we could have even lower rates. Good news for home buyers.
New listings were up causing inventory to rise as pending sales decreased about 54%.
Prices are continuing to rise with Median sales prices up 5.6 % to $218,000. Days on Market increased slightly to 50 days. Supply of inventory was up 22.9% to 4.3 months, which indicates increased supply relative to demand. As this is a slower time of year for home sales a lower number of closings is to be expected. The historically low mortgage rates are continuing to encourage buyer demand and increase prices. Excellent affordability gives buyers the ability to offer moer to secure their dream homes.
Throughout the country continual low levels of inventory constrain sales activity from where it would be in a balanced economy.
~ GGAR Market Newsletter
OCTOBER Sales
Real Estate Sales - New Listings were up 1.7% while Pending Sales decreased 54.2%. Inventory grew to 22.9% or 4,883 units. Prices moved higher with median sales price moving up 5.6% to $218,000. Days on Market (DOM) increased 6.4% - so it is taking 4.3 months to sell your house, showing that supply is increasing relative to demand.
Greater Greenville Market Data Overview

(Condo & Single Family Home Sales)

OCTOBER

2019

2018

Homes Sold

1227

1097

Active Homes

4,883

4,036

Average Sales Price

$257,667

$240,895

Median Sales Price

$218,000

$206,500

Average Days On Market (DOM)

49

45
Sources: GGAR MLS
Thinking of listing?
Talk to us about your home's value and our 3D interactive home tour. It's like having an open house 24-7 without the inconvenience! 864-679-0707.
Sources: GGAR MLS
? DID YOU KNOW ?
* Greenville's Mice on Main has been delighting visitors-children and adults alike-since 2000. But did you know that the whole idea for the whimsical and wildly popular public art installation/scavenger hunt, in which tiny bronze mice hide up and down Main Street, came from a teenage boy? Jim Ryan was a senior in high school when he developed the idea and raised money to make it a reality
.
* Poinsett Hotel was built to provide rooms for visitors to Greenville's annual Southern Textile Exposition.
* Greenville was called Pleasantburg until the name was changed in 1831.
* The Children's Museum of the Upstate is the only children's museum in the US that is a Smithsonian affiliate, an incredible honor.
FUTURE HAPPENINGS
UCB ICE on Main
An open air ice rink right in downtown Greenville. Tons of fun, hot chocolate and plenty of people watching.
Currently open until MLK day in January. Hours vary.
Location: Village Green in front of the downtown Marriott.
Webpage UCB-Ice-on-Main
Turkey Day 8K
8K run, 5K Family Fun Run and walk, and 1/4 mile tot trot. 8AM on Thursday November 28th.
Location: 945 S Main St, Greenville, SC
Webpage Turkey Day 8K Greenville
Window Decorating Contest
From December 1 - 15th Stroll down Main Street and pick your favorite window decoration. Vote at City of Greenville SC Facebook Page. Enjoy your stroll with some hot chocolate and carolers which will be showing up during the holiday season.
Night of Lights
Tree and plaza lighting on Main Street from McBee Ave to Broad Street. Christmas tree and trees along the road.
Friday, December 6th 5:00pm - 8:00pm October 19th 5:00 pm - 8:00 pm
Greenville Poinsettia Christmas Parade
Over 75 years old, this parade has signaled the start of Greenville's Christmas season.
Time: Saturday 6:00pm - 7:30pm December 7th
Location: Main Street Greenville from Augusta St to North Street
SATURDAY Market Holiday Edition
Crafts, holiday baskets, artisan goods and more just for the holidays.
Time: Saturday December 14th.
Location: Downtown Greenville, Main Street. 8:00am - 12:00pm
Santa Run
Holiday themed 5K Run/Walk and 2M Dog Trot.
Time: Saturday December 21st at 9:00am - 10:30am.
| | |
| --- | --- |
| | Cunningham Team Client Testimonial |
"Lee & Jessica put forth a commendable effort to sell this property ... As "absent" owners, unable to personally supervise activities, an unusual amount of work by Lee and the folks was required. Thanks for all your help."
- Karl H
What's SOLD in YOUR neighborhood?
Get active, under contract and sold homes report for ANY GREENVILLE, SC neighborhood. Be better informed about selling prices for real estate near you and your future home.